Our experienced customs consultants offer you expertise, capacity and results in the field of customs. Our team of 25+ consultants are based across mainland Europe and the UK allowing us to work with you both onsite and remotely to guarantee an optimal customs advisory that fits your needs.
A broad spectrum of customs knowledge backed by over 20 years of practical experience
Objective and independent advice tailored to your needs
Comprehensive analysis of your customs needs, risks and opportunities
Customs Support Offers End-to-End Customs Services
Our customs experts work around your needs to understand your unique challenges and opportunities. We are here to discuss everything from your short-term operational concerns to more long-term strategic customs challenges.
What can be a labyrinth for most organisations, is a playing field for our customs specialists. We help you reduce your workload, costs, and risk, through the analysis of your logistics processes and optimisation of your customs activities.
Customs Support Offers End-to-End Customs Services
Fast, accurate and compliant, all across Europe

Full-Service Customs Expertise
We have it covered end-to-end: everything from processing declarations, consultancy, supply chain optimisation to containergas measurements

Experienced Specialists
Our 1700+ experts with over 20+ years of industry specific customs experience ensure the highest compliance standards throughout Europe 

Digital Customs Solutions
Our cutting-edge IT solutions enable you to monitor all processes 24/7, while we adapt to digital trends to ensure the highest security standards

Global Knowledge, Local Presence
We link your local customs needs to our global network of professionals across 100+ strategic locations in Europe 
Facts and Figures Customs Consulting
What Clients Say:
Customs Support provides DHL Parcel with the customs and expertise for projects in which we improve our solutions from and to the EU. Professionalism and knowledge are two important aspects in the collaboration with Customs Support.
Director of International Networks at DHL Parcel Benelux
Discover the Rich Knowledge of Our Customs Specialists
Whitepaper
A Deep Dive Into What You Should Expect from a Customs Consulting Service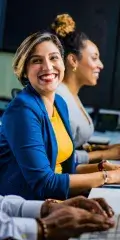 Whitepaper
Export Customs Procedures and the Latest Requirements for Global Traders