The Union Customs Code (UCC) contains a number of special procedures, that aims to reduce the administrative burden of customs supervision. We can provide you with expert assistance in applying for different customs permits such as import or export permits by offering:
European-wide customs procedures knowledge
Extensive experience in operating with customs authorities
AEO accredited compliant partner
Image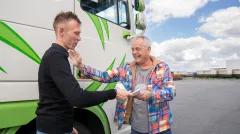 These procedures can significantly streamline your customs operations as part of a fluent logistics chain.
The EU has enabled many different procedures under the categories of transit, storage, specific use and processing purposes. Authorisation is always needed for using special procedures. but utilising them might enable new practices in your customs operations and bring fluency to your supply chain. 
Your Import and Export Permit
As we have broad experience in different customs procedures and related authorisations across Europe, it would be our pleasure to be your partner on the road towards getting your import or export permit. We can also assist you in understanding what type of authorisations and procedures you can benefit from. These are some of the special customs procedures we help you with: 
Inward processing is a duty relief procedure. Under this procedure, goods can be imported into the EU for processing, with a suspension of VAT and import duties. The processed products can either be re-exported or released to free circulation.
Outward processing is the opposite of inward processing. If the goods are processed abroad and come back into the EU to be put into free circulation, the duty might be paid only partially, on the value added abroad. 
Using customs warehousing procedures products can be stored in locations authorised by customs (customs warehouses). Import duties and trade measures become obsolete in a customs warehouse.
Customs Permit | Frequently Asked Questions (FAQs)
What are special customs procedures?
There are several special procedures companies can apply for: inward processing, outward processing, customs, or bonded warehouse, temporary admission and end-use.
What is required to get authorised?
When you request authorisation to utilise a specific special procedure, the customs authority will typically evaluate the organisations' customs compliance and activities history. Other requirements for attaining and keeping authorisations are related to keeping reliable archives and taking care of any customs debt within the specified time limits. You must also make sure, that authorities are able to perform their supervision when needed.
Do I have an advantage for special procedures if I am already AEO authorised?
If you already hold an AEO (Authorised Economic Operator) authorisation, usually the general conditions are already fulfilled when it comes to customs compliance and financial solvency. As a result, the assessment process by the authorities might be lighter. Learn more about our AEO services. 
Contact us today and one of our consultants will be in touch.