Customs Support Enables Degassing and Risk Analysis through its PX Safety and Van Tienen Subsidiaries
Image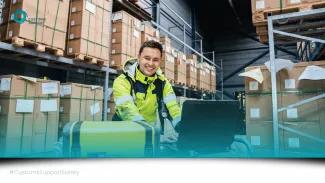 The Customs Support Group does much more than being a customs partner for companies that wish to export goods or import goods and participate in global trade.
Two of our subsidiaries specialize in a whole different part of the import- and export process: risk assessment and degassing of import containers, and the gassing of export containers.
Creating a Safe Working Environment
In up to 20% of all containers imported in the Netherlands, there are hazardous levels of toxic gasses. These gases present a health and safety risk for people that need to load or unload the container, or for people who have to open it for inspection.
Customs Support employees are highly skilled and experienced experts that will inspect containers and check for hazardous gases with specialized equipment. If the gas levels are too high we have the equipment needed to degas the container to make it safe to open. If needed, our people can unload a container wearing specialized hazmat suits and protective equipment.
We go beyond a simple gas measurement and work together with our customers to find solutions for whatever gas-related challenge they are faced with.
PX Safety and Van Tienen
PX Safety and the Van Tienen Group together have full coverage of the Netherlands for a range of services related to degassing.
Gas Measurement and Analysis
According to the Working Conditions Regulations, recipients of shipping containers must carry out a risk assessment to determine if employees can be exposed to dangerous chemicals when opening or unloading shipping containers.
Depending on the cargo, a wide range of evaporating production chemicals, sterilants, and fumigants potentially pose a serious threat to the employees.
Using our advanced FTIR (Fourier Transform InfraRed) gas analysers we can measure hundreds of chemicals, substance-specific and within a few minutes. FTIR gas analysers identify and measure gaseous compounds by their absorbance of infrared light. Every molecular structure produces a unique spectrum when exposed to infrared light. False-positive results, which will lead to unnecessary rejections and extra costs, can be eliminated by spectrum comparison.
Degassing
At different container terminals in The Netherlands, we have all the facilities required to force-ventilate containers that contain too much gas. We make use of modern high-pressure or negative-pressure degassing systems. We degass containers at terminals across the Netherlands and on location.
Risk Analysis
Our extensive and reproducible FTIR-analysis in combination with our reliable database form a solid basis for the risk analysis. In most cases, we quickly find the relation between specific cargoes in containers and their related production chemicals or fumigants. Root cause analyses and categorization of container flows are included in our risk analysis.
Risk analysis can also lead to substantial cost savings by applying random checks in inventoried safe container flows (Category C) in full compliance with the occupational health and safety catalogue 'Dangerous gases in shipping containers'.
Health and Safety
To create a safe working environment, the Van Tienen Group assists companies by periodically monitoring gas concentrations in warehouses. These measurements are carried out using advanced FTIR-analysers that are, unlike other measurement techniques, able to accurately measure a wide range of chemicals including formaldehyde and ethylene oxide.
We also do airborne dust measurements, for which we use advanced measuring instruments that enable us to carry out real-time airborne dust measurements in various particle sizes and personal exposure measurements over a period of eight hours.
Value Added Services
We also offer a range of services related to degassing and gas measurement:
If there is no time for degassing, we can unload containers using specialized personal protection gear.

EtO-sterilized medical products can be temporarily stored and ventilated in our ventilation warehouse. If required, we can also remove the shrink wrap which will speed up the degassing process.

If Customs wants to perform physical customs inspection they request a gas measurement immediately prior to a physical inspection of a shipping container, which we can perform

In case gas levels exceed safety limits we can assist by enabling customs officers to safely inspect the shipment ensuring a fast release of the shipment

When cargo needs to be protected against insects we can gas and then degass export containers with phosphine or sulfuryl fluoride. We also offer non-toxic methods like controlled atmosphere treatment and heat treatment for wooden pallets and stuffing materials.
Take the Load Off Your Mind
If you have any questions about gas-related matters, or need support with gassing, or degassing of your shipment, a risk analysis, or any other gas-related issue, please contact one of our trained and experienced specialists. They are happy to help take the load off your mind!