Customs Support Group expands the family with CPS France
Image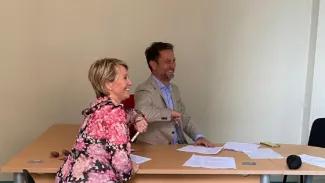 Customs Support Group continues to grow. More than 400 employees in more than 40 offices in 5 countries take the load off your mind every day. These numbers went up again on August 5.
Expanding the family
On August 5 we welcomed CPS France to the Customs Support family. The company, founded by Stéphanie Grütter, is based in Saint-Louis in France, close to the border with Switzerland. This month they will open a brand new office in Sierentz, located between Basel and Mulhouse.
Ready for Brexit
Later this year we will open a second office in Calais. This office will be operational from 1 October 2020. The office is located close to the port of Calais and the Eurotunnel. These are two major freight interchanges between the European Union and the United Kingdom. With the office in Calais, we are even better prepared for the Brexit.
An important step forward 

Frank Weermeijer, Group CEO of Customs Support commented: 

"This acquisition is, without doubt, an important step forward for Customs Support. Especially when we look at the large amount of freight traffic between France and the United Kingdom. Customs Support France is growing steadily and will play a crucial role in the goods flows after the Brexit. We are very pleased that they are now part of the Customs Support family".
Mrs Stéphanie Grütter is the new Managing Director of Customs Support in France. She will also remain responsible for CPS-Zoll in Basel, they will work closely with Customs Support.