Customs Support Safety: Gas Analysis & Risk Management
Image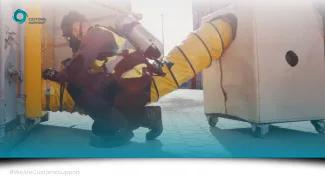 We are proud to announce that Van Tienen Group and PX Safety are now Customs Support Safety. GOC Rotterdam is also part of Customs Support Safety.
In the past years, our company has grown considerably, on the one hand through acquisitions, on the other hand, we are growing through our portfolio of services.

We have specialized in measuring gases and degassing in sea containers, trucks and warehouses. We supply reliable and reproducible measuring techniques in order to carry out thorough risk analyses with a sound knowledge of the matter.
Customs Support
As part of Customs Support, we are expanding our services with new services at more locations. We will launch a 'Stop & Go' measurement location in Rotterdam in the near future. With locations in Rotterdam, Groningen en Venlo and the ability to work on every location we offer our clients gas analysis and risk management everywhere in The Netherlands.

Customs Support has a strong reputation and stands for knowledge, speed, efficiency and digital customs solutions. Together with hundreds of customs specialists, a broad geographical coverage through many offices at logistic hotspots, Customs Support helps a wide range of clients with their European customs matters, including consultancy and gas measurement services. The company is currently active in The Netherlands, Belgium, Germany, France, United Kingdom and Poland.
Services
We are here for you. Whether it concerns gas measurements, customs documents, training for declarants or other activities to make the logistic process for your goods run as smoothly as possible. We are Customs Support. Take the load off your mind!
 
Your contact person remains your contact person. From now on you can reach our colleagues at firstname.lastname@customssupport.com.

Do you want to receive a quote or want to plan an inspection? Please call +31 (0) 85 0298000 or mail planning-nl-safety@customssupport.com.
 
We look forward to working with you!