The Impact of COVID-19 Pandemic on Air Freight
Image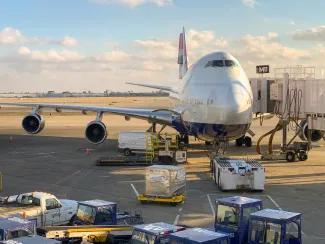 Last week we updated you on the impact of COVID-19 on ocean freight and the effect it has on the three largest ports in Europe. This week we cover air freight.
As countries went into lockdown, and borders were closed, the airline industry came to a screeching halt. Many countries closed their airspace. Exceptions were made for planes carrying citizens returning home and essential freight.
No Passengers, But the Plane Is Full
Companies trying to ship their goods via air freight were running into an issue. In many cases, the problem wasn't getting permission to fly the goods to a country, but it was finding space on a plane. With almost the entire fleet of passenger planes grounded worldwide, the available air freight capacity dropped to close to 50%. What many people don't know is that almost half of the world's cargo is carried in the bellies of passenger aeroplanes…
With revenues declining very fast, airlines were looking into ways to still make money. At first, airlines flew passenger planes with empty seats and full cargo holds. But it wasn't long before solutions were developed to carry cargo in the passenger area of the plane. Soon there were pictures emerging overhead luggage compartments filled with boxes, and boxes strapped into passenger seats.
Forbes reported:
Many airlines around the world have started cargo-only flights using passenger aircraft to bolster depressed global airfreight capacity, and accommodate a spike in demand. American Airlines, for instance, last week operated its first scheduled cargo-only flight since 1984 when it retired the last of its Boeing 747 freighters. American's cargo-only flight operated two round trips between Dallas Fort Worth International Airport and Frankfurt Airport over the course of four days, aboard 777-300 will carrying only cargo and necessary flight personnel. Other carriers launching "passenger freighter" services include U.S. majors Delta and United, Air Canada, Aeromexico, Austrian Airlines, British Airways, Cathay Pacific, Emirates, Iberia, Korean Airlines, South America's LATAM, Lufthansa, Qantas, Scoot, and Swiss.
These measures not only made sure global trade could keep flowing, but it ensured that life-saving medical equipment could be distributed across the world. It required some changes to the regulations in different regions in the world, but those were implemented.
Read the full article here.
What is the Current State?
The IATA has just released their April air freight figures. Air Cargo News reports:
Looking at regional performance, IATA said that airlines based in Asia-Pacific saw demand for international air cargo fall by 31% in April 2020, compared to the same period a year earlier.

However, the large Asia-North America market recorded a lower 7.3% decline due to the rise in the movement of personal protective equipment (PPE).

…

Europe based airlines reported a 33.7% drop in cargo volumes in April, much sharper than the outcome for March (-18.8%).

"However, the large Europe-Asia market recorded less of a decline due to the rise in the movement of PPE," IATA said.

…

North American carriers reported a fall in demand of 11.5% year-on-year in April, which was the smallest contraction of all regions.

"While still a significant drop, it remains less than the decline seen at the height of the Global Financial Crisis in April 2009 (-32.3%)," IATA said.
Read the full article, with numbers for the Middle East, Africa and South America here.
In another article Air Cargo News reports on the current situation, with data from Seabury Consulting:
Air Freight rates out of Shanghai continued on a downward trajectory last week as air cargo capacity on key routes remained steady.

…

Statistics from Accenture's Seabury Consulting show that capacity from Asia Pacific to North America is 4% higher than the same week a year ago as more belly capacity comes into the overall market.

Meanwhile, on services from Shanghai to Europe, average prices also declined last week – although to a lesser extent than to North America.

TAC Index data shows that average rates on the trade were down 11.8% week on week to $8.65 per kg but are far above the $2.44 per kg average recorded last year.

…

The performance in rates to Europe reflects capacity on the trade, which is 8% down on a year ago.

While the capacity shortage— caused by the coronavirus-related loss of passenger services ⁠— is easing on the transpacific and Asia-Europe rates, space remains tight on many other lanes.

Transatlantic capacity, for example, is 60% down on a year ago westbound and 52% behind eastbound. South America-Europe is around 80% down in both directions, while South America to North America is 12% behind last year.

Overall cargo capacity is 26% down on a year ago
Read the full article here.
How Are the Biggest Airports in Europe Doing?
An increase in the number of full cargo flights mainly took place towards North America and Asia. The number of additional full freight movements to North America amounted to more than 275 flights. More than 250 additional flights to Asia took place. Nevertheless, the total volume of cargo transported declined by -26%, as it does not fully offset the freight normally carried in passenger aircraft holds.
More and more airlines started operating additional flights with full freighters. This behaviour results in a strong increase of 52.1% compared to April last year. This increase largely compensates the loss of belly capacity, which has a strong decrease of 91%. The additional cargo flights are mostly carried out with full-cargo aircraft.

…

Overall, the freight volumes at Brussels Airport have known a decrease of 13,7% last month, compared to April 2019. The main reason for this decrease is the cancellation of most passenger flights.
With only 6,512 takeoffs and landings, flight movements were also down by 85.1 percent. Accumulated maximum takeoff weights (MTOWs) fell by 75.1 percent to 664,022 metric tons. Cargo volumes (comprising airfreight and airmail) contracted by 20.7 percent to 141,337 metric tons. These reductions were mainly driven by a decline in available belly freight capacity on passenger flights. By comparison, there were significantly more cargo-only flights this April.
The number of cargo-only flights has jumped significantly. Heathrow's busiest day for cargo so far was on 31 March, when it handled 38 cargo flights in only one day. The airport usually deals with 47 cargo flights per week.

However, the absolute volume of cargo has dropped, by 32% in March, according to the latest figures. This is because more than 95% of cargo is usually transported in the hold of passenger planes.
Take the Load Off Your Mind
Whether you are shipping to or from these airports, or any other airport, our customs specialists are always ready to answer any questions and support your global trading efforts. Contact them today. Take the load off your mind.