Meet Our People: Anastasia Fedchenko
Image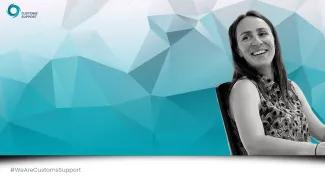 In our series #WeAreCustomsSupport, you will meet the people behind Customs Support. We value our colleagues and the work they do. In this series, we will interview the people who are always ready to assist you with importing or exporting your goods without worries. Next up in this series is Anastasia Fedchenko, who is the European head of consulting.
Who are you? 
My name is Anastasia, and I've been with Customs Support for almost two years now. I am responsible for European consulting, and building this service unit within the group. 
What does your typical working day look like? 
Every day is very different. I get in touch with consultants in different countries, working with them on the country strategy and operational activities. We review our consulting pipeline, discuss existing projects, prepare the team for new projects, and proactively discuss the operational challenges within the team. 
I am also very focused on the commercial side, getting in touch with international and national large organisations to address the challenges, identify improvements, listen to the concerns and strengthen our collaboration so that we can deliver the best solution. 
What do you like most about your job?  
I like that every day is different, both with what I have to do and the people that I need to work with. Every business has different operational needs and I enjoy getting to know organisations, their industry and their challenges, before figuring out with my team what the solution could be. 
What are some common problems you've helped solve with consultancy?  
We receive a lot of requests for help with classification. It can be a request for help with a single item or it can be for multiple hundreds or thousands of products. Other common requests we receive are about applying for customs permits such as bonded warehousing, AEO licence or special procedures.  
What we are seeing more of at the moment is businesses looking to get their processes audited and making sure they are compliant and efficient. It can be a general health check and a part of an AEO consultation when companies are aiming to position themselves as a trusted customs and supply chain partner. This shows that companies are getting more conscious of the ever-changing landscape of customs, and want to remain ahead. 
You're in Germany and heading up European consultancy, but you've got consultants all over Europe speaking different languages. How do you manage that?  
I believe it's very important to have local teams and consultants because, even though we are all in the European Union and have common regulations, there are specific requirements for every single country and multiple languages spoken throughout Europe. 
For that reason, we have our consultants in each country that oversee consulting projects. I am there for the first talks with the client so that I can start the collaboration and understand what their business and challenges are, before entrusting the execution of that project to the consultant. 
What was your experience before joining Customs Support? 
I've worked in various countries and across different industries, with a focus on international marketing and sales, structuring commercial departments and building up businesses.  
What do you do when you're not at work, and how does that affect your work skills?  
I do a lot of sports. I swim, I cycle, I fish as well. I used to swim competitively, and it's still important for me to be disciplined even though I don't have the time to compete anymore. It's important for me to have that alone time, but I also balance that by spending time with friends and enjoying myself. My family are also spread across the world, so I like to travel and see them. 
What is the most important thing a client should look for when they're choosing a customs consultant?  
Expertise. Whichever company or consultant you are choosing, you need to be sure that they have the deep expertise needed to give the support that you require. For us, we don't do anything else but customs and we make sure that a local expert is the one in charge. That expertise is always there. 
The second thing is flexibility. Things change and you need to know that your customs partner can change with them. We are in several countries, speaking multiple languages, and continuously adapting because we know that's what's needed to serve businesses long term. 
What's next for the consultancy department at Customs Support?  
We have very ambitious plans to grow and aim to serve all the countries that we currently have offices in. Currently, we are serving the top five countries of Customs Support but haven't concentrated commercially in the others. This is our next step, to introduce dedicated consulting teams to every country. 
You work with the Europe-wide network. If you were to visit a country of Customs Support, which country would you want to go and see first and why?  
I've seen most of them already, but I would like to visit the Nordic region as I haven't had that opportunity yet. They are beautiful countries and I have great colleagues there, so it would be nice to make the trip to see them.