Meet Our People: Antti Tiirikainen
Image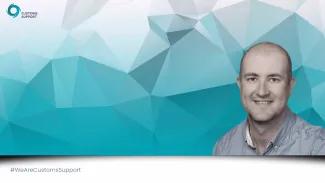 In our series #WeAreCustomsSupport, you will meet the people behind Customs Support. We value our colleagues and the work they do. In this series, we will interview the people who are always ready to assist you with importing or exporting your goods without worries. Next up in this series is Antti Tiirikainen, who is a sales manager for Customs Support Finland.
Who are you?
I'm Antti, 40 years old, and I joined Customs Support Finland when they acquired SA-TU Logistics. I have been working with the team here since I joined SA-TU in 2007, covering different positions within the company before becoming a sales manager.
What does a sales manager do?
My main task is to find new customers, and to check in on all our customers and account managers to ensure that everyone is happy with how we are working together.
What does your typical working day look like?
I read a lot of emails and talk on the phone with customers and colleagues. Before Covid, I would travel a lot to see people, but most of my meetings are now online since everyone has adopted virtual get-togethers. It's saved me a lot of time as Finland is a very large country to be driving across, but I do miss the face-to-face meetings as this is the best way to meet people.
You've been a sales manager for eight years, what were your responsibilities at SA-TU before?
I used to be an export team leader in the customs declaration department. It was my role to ensure the operations team had everything they needed, that the workloads were ok, that we had the internal expertise to fulfil our duties, and that everything went smoothly for our customers.
What do you like most about your role?
I like the freedom that I have within my role to organise my work day in the best way for me. It is important for me not to be stressed or bouncing from one thing to another so that I can dedicate myself to each task, especially when I am interacting with customers. I like meeting people, and it's important to bring my best, happy self when meeting them.
What excites you the most about this new challenge with Customs Support Finland?
Before, we were a family-run company that only operated in Finland. I knew everybody very personally and we have worked together for a long time. It is a new and exciting challenge to be working with people in different countries.
I have had a great experience so far with my international colleagues, and we've been able to provide so much more for our Finnish clients with them on our side.
What do you like to do outside of work?
I have a wife and two boys, 12 and nine years old, and a dogs. I love sports: playing golf, cross-country skiing, and I coach my youngest son's ice hockey team. I spend a lot of time with my family and staying active.
What is the most important thing a client should look for in a customs broker?
Digitalisation. We make things simpler and more secure with our digital solutions, but that's the basics. We also make use of that data in so many different ways, providing dashboards, trends, and other things that others can't.
Of course, with all that data in our view, our neutrality is also key.
If you were to visit a country of Customs Support, where would you go and why?
Winter is very cold and dark in Finland, and we are not the warmest country in summer either. I would like to take my family somewhere hot, like Italy or Spain.