Meet Our People: Customs Support UK Managing Director Gary Harrold
Image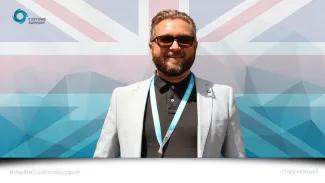 In our series #WeAreCustomsSupport, you will meet the people behind Customs Support. We value our colleagues and the work they do. In this series, we will interview the people who are always ready to assist you with importing or exporting your goods without worries. Next up in this series is Gary Harrold, who is the managing director for Customs Support in the UK.
Who are you?
Hi! I'm Gary, and I've been in this industry for over 20 years now. The bulk of my career has been in customs clearance, mostly within freight forwarding companies.
I started with UKCS – the company that was acquired by CSG – shortly after they launched in 2014, seizing the opportunity to work for a company that solely provided customs clearance. It's the part of the industry I am most interested in, and it's been a joy to concentrate on it.
What does a managing director do at Customs Support?
I am responsible for structuring the organisation in the UK and leading the management teams. Currently, we are unifying the UK acquisitions and transforming them into a single entity. Part of that is defining the structure and roles for everyone so that we can efficiently service our people, clients, and overseas colleagues.
What does a typical working day look like?
There is a lot of assessment and reorganisation going on at the moment, so I am in a lot of meetings – either with clients, managers around the UK, or with our counterparts across the EU.
In the UK, we are restructuring our managerial teams and backfilling positions where senior leaders have left following acquisition. It is important to us that we upskill our people and support their development, so we are finding opportunities to do that across all of our offices.
Clients in the UK are relying on us to guide them during the ever-changing landscape – both from the progression from CHIEF to CDS, and Brexit regulations and timelines changing.
I am currently working with colleagues across the EU to determine resource requirements for end-to-end customs clearances for their customers trading with the UK, and vice-versa.
What do you like most about your role?
People. I love talking to our people, talking to our customers, and helping people solve problems.
You're located in Felixstowe, England. What's the best thing about your location?
The pool of talent here. We have the largest port in the UK, and one of the largest in Europe, so the amount of local people in the industry is far greater than most other places. Felixstowe, itself, is a nice coastal town, and the sun is always shining, so working here is good.
What excites you the most about joining this network of customs experts?
What we can now bring to our clients. We now have a much better capability to provide end-to-end customs clearances through the networks software, electronic data interchange, and having physical offices at the other end of our customers' supply chain. We [CSG] are ahead of the game in that respect.
What's the next stage for the UK's development?
Alongside structural and management changes, we are heavily investing in our systems and working with customers to improve our electronic data interchange way of processing documents.
Training is also big for us at the moment. We have the Customs Declaration Service coming later in the year, and we are already working on that system whilst we have CHIEF alongside as backup. Many of our declarants have completed training with the Customs Academy since Brexit, renewing their academical knowledge to support their operational experience, and we will continue to upskill our declarants as we develop.
Once our structural reorganisation is complete, we are looking to grow the team from that base so that we can service more of the UK traders where CSG are already providing clearances to their counterparts in the EU.
Why is it important to have an office in Felixstowe?
Again, it's the access to the pool of talent that we have here. With the port here, local careers are heavily orientated around it and that environment creates better opportunities for people to grow as individuals and make connections, compared to being away from the area.
What do you do outside of work, and how does your outside life affect your work skills?
I am very family orientated, so I spend my time with them. Whether it's with my daughter, my stepdaughters, my brothers, or their families – my nieces and nephews. We've also just moved, so a lot of time is being spent renovating the house.
Working with lots of people day in and day out, we are like a family unit. It's great when the team is pulling together and we are creating solutions, but it's also important for us that everyone knows they are valued, appreciated, and supported as a person, too.
What do you think is the most important quality customers should look for in a customs broker?
In this industry, compliance, but we look to go one step further than that. We aren't just employed by a customer to do their clearances; we are a partner to our customers and bespoke what we do to their needs, so we are a part of their team rather than it being a supplier/client relationship.
You are now part of a Europe-wide network. If you were to visit any CSG office, which country would you go to and why?
Italy. I've been all over Europe, but I have never been there. They have a lot of history and impressive things to see, so I'd love to explore there.