Meet Our People: Emmett Young
Image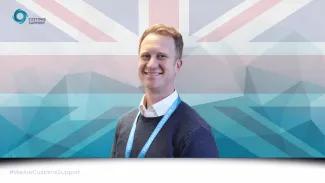 In our series #WeAreCustomsSupport, you will meet the people behind Customs Support. We value our colleagues and the work they do. In this series, we will interview the people who are always ready to assist you with importing or exporting your goods without worries. Next up in this series is Emmett Young, who is the business development director in the UK.
Who are you?
Hi! I'm Emmett Young, the business development director for Customs Support in the UK.
What does a business development director do at Customs Support?
I am responsible for the overall commercial side of the business, the customer service team, and our UK marketing efforts.
What does a typical working day look like?
It's a real mixed bag at the moment as we are busy focusing on our rebrand and with building relationships with our colleagues across Europe. I can be travelling to one of the UK offices – or even some of our European locations. I could be strategising internally on customer solutions, or I could be in meetings with our clients.
What do you like most about your role?
The thing that I love most about my job is the people. We are a service-based industry and it's all about collaborating with people, both internally and externally, to make sure we are providing the best possible solutions.
You're located in Norwich, England. What's the best thing about your location?
I grew up in New Zealand, which has a similar culture to England but is very different at the same time. What I like about Norwich is that it's got a lot of open areas, less of the bustle that you find in densely populated areas – which I'm kind of used to from growing up in New Zealand. Norwich also has a lot of history, though, which is fascinating to me because we don't have the kind of history back in New Zealand.
What I also like is that you can be in London in just an hour and a half on a direct train, right in the thick of it. So, on the one side you've got this chilled, slow pace of life, but then you can be straight in the mix when you want more hustle and bustle. The best of both worlds, really.
The scale up – the ambition of Customs Support, not only in the UK but across Europe and beyond, is very exciting to be a part of. There are so many things going on internally and externally. I've been involved with big, established logistics companies, but being involved with a company as it's scaling up like this, is a refreshing challenge for me.
What's the next stage for the UK's development?
Customs Support's acquisitions in the UK are currently working very hard to become a unified UK organisation. The growth of CSG in the UK has grown tremendously in the last year through the acquisition of several successful companies, and we are now working to blend them together into the Customs Support family.
What do you do outside of work, and how does your outside life affect your work skills?
So, outside of work, my family is a big part of my life, and I'm also heavily involved in North Walsham Rugby Club – where I have been the chairman of the youth section for the last 4 years. It's all about being involved with people, which is a large part of what I do at Customs Support, and it helps me to interact with many different people outside of a customs and logistics perspective.
What do you think is the most important quality customers should look for in a customs broker?
Trust. The trust has to be there before you do business. It's not always about getting everything right 100% of the time, as no business does, but it's about having the confidence in us that we will correct it when things don't go right. That's when we get to a level that is more like a partnership, as opposed to a supplier/client relationship. So for us, the goal is always to get to a place of mutual trust so that the business evolves into us being an extension of their operation – a true partnership where we are both benefitting.
You are now part of a Europe-wide network. If you were to visit any Customs Support office, which city would you go to and why?
Paris, because I want to see the All Blacks beat France in the Rugby World Cup in 2023.