Introducing Customs Support Frankfurt Main
Image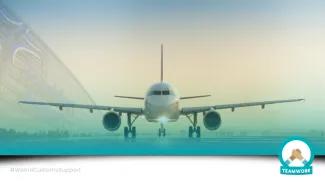 ZSK Customs Service was founded in 2002 by Athanasios Koukaras-Tsismilis. After a career of managing customs operations, Saki, as Athanasios calls himself, decided it was time to start his own company. Many of the businesses he had worked with over the years decided to join his new firm. It was the start of an exciting journey. ZSK developed into a family business, with family members and close friends of Saki joining the company and helping him grow the business. The company recently entered a new phase when ZSK became a part of Customs Support.
Being in the middle of a main cargo hub
The offices of ZSK are located right at Frankfurt Airport, one of the biggest cargo airports in Europe. More than two million metric tons of cargo are handled there every year. The offices are located above the offices of German customs in the LUG Building, which makes coordinating with the customs authority very efficient. With Frankfurt being one of the main European cargo hubs, there is never a dull moment at ZSK. They service clients flying cargo into or out of German airports.
Digitalisation is essential for efficient customs processes
From the start in 2002, Saki kept an eye on digital developments and incorporated them into ZSK's processes and procedures early. This has given them an advantage over their closest competitors in the area, being early adopters and leading the way. Digitalisation and automation made it possible to scale the operation and combine speed with excellent service. That high level of service also shows in the fact that ZSK is open 365 days a year to enable their customer's global trading aspirations. If office hours need to be extended, they arrange it, even if this means processing documents to enable a shipment in the middle of the night.
Muhammad Ali's Boxing Shorts
Muhammad Ali once told a reporter who asked him how fast he is:
"I'm so fast that last night I turned off the light switch in my hotel room and was in bed before the room was dark."
ZSK has digitalised and optimised its processes to deliver super-fast service to its clients. So it was very fitting that they were asked to create the export documents and handle the customs formalities for shipping a unique pair of boxing shorts to an auction house in the United Kingdom. It was the pair of shorts Muhammad Ali wore in his final fight against Trevor Burbick in the Bahamas.
Joining Customs Support
ZSK is a strong force in the German markets. Joining forces with Customs Support has given it the leverage of a pan-European organisation. ZSK clients now have access to offices all across Europe. ZSK enables Customs Support to grow in Germany, while Customs Support enables ZSK to grow with business from outside of Germany. ZSK and Customs Support are on the same page regarding digitalisation and its potential for further development and growth.