Top 10 Most Read Customs Blogs of 2021
Image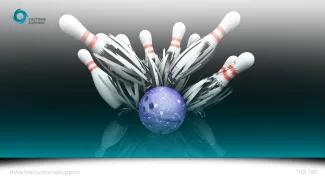 What a year it has been. Supply chains the world over have seen son significant disruptions again this year. The pandemic is one, and the blockage of the Suez Canal has been another. In Europe and Great Britain, there has been (and still is) a lot going on with Brexit and the trade agreement between the European Union and the United Kingdom.
In 2022 more changes are coming, especially on the United Kingdom side. Follow the news section on our website and our Company LinkedIn Page to stay updated.
It is no surprise that many of the stories in our Top 10 Most Read Customs Blogs of 2021 connect with Brexit. Please find the top 10 below in no particular order.
What is a Movement Reference Number (MRN), and Why Do I Need One
This blog explains what a movement reference number is and what you need it for.
An MRN is 18 characters long. The first two characters are the year in which the goods are shipped, e.g. 20 for 2020. The next two characters are the two-letter country code of the country where the shipment originated, e.g. DE for Germany. The last 14 characters are an alphanumeric code which is automatically generated by the Customs Authority.
Read more here.
Brexit: How to get an EORI Number? Overview of EU Customs Authorities
This blog gives a complete overview of all EU Customs Authorities. And we explain the different procedures each country in the European Union has for getting an EORI number.
An EORI number is a European Union registration and identification number for businesses that want to import or export goods into or out of the EU. An EORI number is assigned by the member state where your company is established. Once you have an EORI number, this number will be valid in all other EU member states.
Read more here.
Invoice declarations: Will Form A and EUR.1 be a thing of the past?
This blog explains what REX is and how it has replaced Form A and EUR.1.
The Registered Exporter system (the REX system) is a system of certification of origin of goods based on a principle of self-certification. The origin of goods is declared by economic operators themselves by means of so-called statements on the origin. To be entitled to make out a statement on origin, an economic operator has to be registered in a database by his competent authorities. The economic operator becomes a "registered exporter".
Read more here.
Exporting: The key elements of a commercial invoice
This blog post explains all the aspects that need to be mentioned on a commercial invoice.
One of the documents you need to provide to the Customs Authority when you want to export goods is a Commercial Invoice. In this blog post, we will take you through such an invoice and list all the elements that have to be on it.
Read more here.
Export Documents: Which types are there, and when do you need them?
In this blog, we explain the different types of export documents and which documents are needed for which countries.
When goods are produced in an EU country, or imported and customs cleared in an EU country you need export documents to ship these goods to countries outside of the EU. Actually, for some countries or destinations within the EU, you also need export documents.
Read more here.
The Benefits of a Customs Project Manager
The title says it all. This blog explains the benefits of hiring one of our Customs Project Managers.
When your business grows, you may find that your processes don't grow accordingly. Can you effectively manage the impact of additional customs-related work? Are your current processes still suitable, or can they be optimised?
Read more here.
Customs Value - What is it, and how do you calculate it?
In this blog, we explain how to calculate the customs value of your goods correctly. Incorrect customs values can lead to unexpected import duties, fines and delays.
The customs value is the value that is used to determine how much customs duties you need to pay when importing goods into the European Union. To ensure global trade is fair there is a global agreement on how to determine customs value.
Read more here.
What are the risks of using the wrong HS-Code?
This blog explains how to determine the right HS-Code for your goods. Using the wrong codes can lead to your goods being refused at the border.
HS-Code stands for Harmonized System Code. It is developed and maintained by the World Customs Organization in Brussels. HS-Codes are used by Customs Authorities worldwide to categorize products. Based on the HS-Code of the product you want to export there are specific requirements, import duties, tariffs, or taxes you may need to pay.
Read more here.
Customs Support expands European footprint with acquisition Sernav Italy
We added many companies to the Customs Support family in 2021, and we will add many more in 2022. Sernav was one of those additions.
With its more than 170 employees, Sernav is known for its superb quality of service, deep understanding of Italian customs matters, long-lasting relationships with its clients and technological innovation.
Read more here.
Everything You Need to Know About Getting AEO Certified
This blog explains what it means to be AEO Certified and how to become certified.
Being part of a supply chain with authorised economic operators means being a reliable supply chain. For more and more companies, it is becoming a requirement rather than a preference.
Read more here.

Customs Support | Empowering Global Trade 
Thank you for visiting our site and reading our blogs. Our specialists love to share their knowledge with you and will continue to do so.