Tournebize, SPTT and CPS form Customs Support France
Image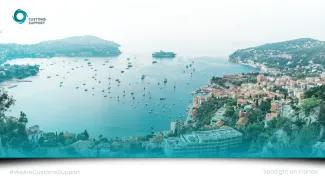 Customs Support entered the customs brokerage market in France by welcoming three well-established French customs brokerage firms to the family: CPS, SPTT, and Tournebize form Customs Support France.
The three companies have joined a leading pan-European Digital Customs Broker. Their extensive knowledge of the French customs market is a welcome addition to our broad knowledge base. At the same time, their customers can benefit from the knowledge and experience of our specialists in other countries, making it easier for them to expand their businesses into new markets. 
Customs Support France will serve the French market from 9 locations at all significant logistics hubs across the country, with a team of forty-five well-trained and experienced specialists. Customs specialists are ready to assist you in Fos sur Mer, Marseille, Lyon Saint, Exupéry, Grenoble, Calais, Le Havre, Roissy Charles De Gaulle, and two offices in Mulhouse. 
Three Teams Becoming One 
CPS (Custom Partner Services SAS), which joined Customs Support in 2020, has offices in Sierentz and Calais. The team has helped many companies importing and exporting to and from the United Kingdom through the Port of Calais and the Eurotunnel. 
SPTT (Société Phocéenne de Transports et Transit SAS), which joined Customs Support in 2021, is based in Marseille and is one of the oldest customs agents. Their responsiveness and ability to offer tailor-made services to their customers have made them a long-term partner, enabling their customers to trade across the globe. 
Tournebize, which joined Customs Support in 2021, provides its dedicated services to customers from six locations across France, taking care of import and export documents and providing advice and training. They have helped many French companies to optimise their customs-related processes. On top of that, they provide specialised customs training from their education centres.
Grow Your Business in France and Beyond
With the rebrand to Customs Support France, they truly combine their knowledge and experience and serve their customers across all of France. Existing customers will still interact with the organisation they know, but their regular contacts now have a much larger organisation to fall back on. Customs Support France will also enable our customers from other countries to expand their business in France and support them with knowledge about the local market. 
Asked about what characterises Customs Support France, General Manager Sebastien Viard commented: 
"My team has such a high level of knowledge, and they have the drive to keep learning. As we train other professionals to become customs agents, it's important that they stay on top of their knowledge. They can now share that knowledge with colleagues across Europe and learn from them in the process. Backed by the digital capabilities of Customs Support, we are ready to take customs brokerage to the next level in France." 
Interested in what our French team can do for you? Please get in touch via this link.