Image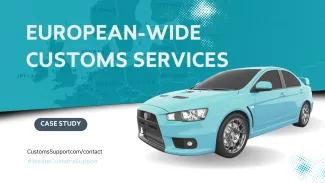 Your Partner for European-wide Customs Services
Within this client case study, we outline how we provide full-service solutions with integrity (compliance) across the global landscape.
Our client is a Korean-US Automotive company with European Headquarters in Dobris and a central EMEA Distribution Centre for spare parts in Germany (200.000mtr). For this client, we prepare all import, transit and export documents, including Fiscal representation for several ports (Port of Hamburg, Leipzig airport, Frankfurt am Main).
What unique challenges did this client face?
Origin: we assist with legal compliance for origin and supplier declarations. The origin of a product plays a significant role when you think of importing and exporting your goods, as the origin is one of the tax bases.  
Did you know?
A lot of documentation is involved to prove the origin. If certain components were bought and re-sold several times documents are required from all these steps. If components were processed in one of these steps it gets even more complicated. Proving preferential origin always requires valid background paperwork in the exporters' administration.
European Head Consultancy
If you know the all too familiar complexities of determining origin we are here to help. Customs Support has experienced people to look at your specific situation, analyse the goods flow and determine whether a product meets the rules of origin. Our customs experts are on hand to empower you and your team.
Further to these core services, we also support this client with:
AEO: we provide guidance and training around AEO requirements. AEO (Authorised Economic Operators) recognition has been around for more than a decade now. As the need for accountability in compliant and secure trade practices becomes ever more of a priority, having an AEO status can provide several benefits for your organisation, such as gaining recognition as a secure partner in the supply chain. 
BTIs: we organize the classification of and requests for BTIs. A Binding Tariff Information (BTI) decision is a written tariff classification of your goods. It's not a legal requirement, but it provides assurance that your goods have the correct commodity code or Harmonized tariff code. This is important, as different classifications have different tariffs and you want to make sure you apply the correct tariff. 
Brexit: we advised on a Brexit Roadmap. Our Brexit consultants guide companies through and beyond the complexities of this new post-Brexit landscape. 
What does all this mean for the client?
Due to our 100+ strategically located offices across Europe. We were able to provide customs clearance facilities at the Port of Hamburg, Bremer Hafen, Leipzig-Halle Airport, Frankfurt- am Main for this client. 
Customs Support acts as their interim Customs Department, placing expert personnel in the company to support, train, act and advise. 
With over 1,500+ customs personnel working together across Europe, our internal knowledge is second to none – keeping our client up-to-date with the latest news. 
We have strong relationships with Customs Authorities, we are relied upon to provide key insight and feedback to bettering customs processes at the top level. And our experts are well-integrated into local and global authorities to ensure we provide you with the most up-to-date intel relevant to your area. Bringing you local knowledge supported by a global network.  
AEO certified, keeping them in control of their internal customs processes and maintaining trust with their customers in an ever-changing supply chain world.  
Through quality, integrity, accountability, and a local presence we were able to empower this client's global trade activities.  Could you benefit from the support of a full-service Europe-wide digital customs broker with local and global knowledge? Or are you familiar with the complexities of determining origin? Get in touch to find out how we can support you today.