The Benefits of Interim Customs Specialist Support
Image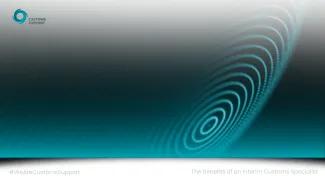 Customs rules and regulations are always subject to change. It can be hard to keep up with the latest updates. Changes in HS-Codes, Trade Agreements, rules to determine the origin, quota, dual-use, sanctions and other requirements and restrictions can significantly impact your operations and your bottom line. 
There can be different reasons for companies not to have specialists on the payroll that can keep track of all things customs related. Today's overheated labour market can be one. Customs specialists are hard to find. Another reason can be a temporary rise in the workload due to unforeseen demand or a project for which specific customs knowledge is needed. Or maybe your business is venturing into new territories outside the European Union, creating the need for specialised customs knowledge. 
The Risks of Not Having Customs Knowledge 
Many companies find out they don't have the customs knowledge they need after the fact. They have shipments that get stuck at customs or are faced with fines. It costs more money to solve these problems than to prevent them. Reasons for fines include using the wrong HS Codes or declaring the wrong Country of Origin for your goods.  
Your supply chain may be operating at a suboptimal speed. Having the correct licenses and permits can speed up your supply chain processes and positively affect your cash flow. Our Interim Specialists can help you. 
The Benefits of Interim Customs Specialist Support 
There can be different reasons to hire interim customs support from our specialists. 
Experience - our specialists have extensive experience and can be put to work in your operation on demand. 
Speed - you can scale your customs staff quick and easy by adding operational support or a team leader or manager. 
Knowledge - our experts have specialised knowledge that can be utilised when the need arises 
Efficiency - customs may not be your specialism, but it is ours. Increase your efficiency and lower workplace pressure. 
Adaptability - we give you the flexibility to respond to changing labour conditions or increased demand. 
We offer three different roles: 
Declarant Plus - operational support for your customs department or project. 
Customs Team Leader & Customs Manager - permanently or temporarily increase your team's efficiency by adding an experienced team leader or manager. Increase the speed and efficiency of your team. 
Customs & Trade Consultants - get project support with determining the origin or classification of your goods, obtaining permits, setting up a customs warehouse, or advising on strategic import and export decisions. 
Adding our highly experienced professionals to your team also allows your people to improve their skills and learn from specialists. Our consultants can create Standard Operating Procedures and work instructions and help you set up your own customs department by training your people. 
Contact one of our specialists if you have any questions or want to discuss how we can increase your efficiency and improve your bottom line.