Fête de la Fédération – Importing Traditional French foods
Serving blue, white, and red this Bastille Day
Image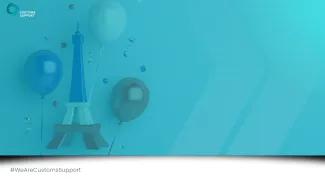 France's Independence Day is celebrated on 14th July and includes the Fête de la Fédération feast. This Bastille Day, discover some of France's traditional dishes and their UK customs considerations.
Salmon en papillote
Translated, this means "salmon in parchment".
To cook this simple but tasty dish, you wrap your salmon in parchment (or tin foil) with some sliced vegetables, fennel, dill, lemon, and some olive oil. Bake for 12-15 minutes so the juices mix. That's it!
If you are importing French salmon (or any foreign-caught fish) into the UK, then you'll need an IUU catch certificate to clear the shipment into the UK.
Poulet Basquaise
Translated as "Basque chicken stew", this hearty meal is made by combining chicken, tomatoes, and peppers in one pot and cooking slowly to let the juices blend. Often served with potatoes or with a light salad.
To import chicken into the UK, you will need to present a veterinary health certificate. Furthermore, you may require an optional indications certificate to confirm the chilling method used, or that special marketing terms such as "free range" are correct.
Beef Bourguignon
Translated as "beef burgundy", this traditional beef stew is made with red wine. Variations have been created with other meats such as rabbit or lamb, which you can recognise on a menu with the "à la Bourguignonne" name. For an authentic dish, use a Burgundian wine.
When you are importing wine into the UK, you must label the bottles with the address of the importer or the bottler.
Wine is also eligible for excise duty. However, duty and VAT can be suspended with duty management functions such as bonded warehousing (an excise or "wet" customs warehouse will be required).
Pommes de terre Dauphinoise
Simple and tasty, potatoes Dauphinoise is made by baking layers of sliced raw potatoes, cream, thyme, and cheese to create a mouthwatering dish that's very popular inside and outside of France.
Importing potatoes into the UK requires a supplementary declaration onto the Import of Products, Animals, Food and Feed System (IPAFFS). To complete this declaration, you will need a phytosanitary certificate and details of the harvest, including field and batch numbers.
Hazelnut dacquoise
Made with ground hazelnuts (and sometimes ground almonds), hazelnut dacquoise is a cake made with layers of meringue inside and coated in rich chocolate. An impressive and mouthwatering dessert!
When importing nuts like hazelnuts and almonds into the UK, you may need an aflatoxin certificate. Check with your customs consultant to see if this applies to your country of origin.
La baguette ou le croissant
No list of French foods is complete without the humble baguette or the croissant, found in bakeries, coffee shops, and sandwich stores worldwide.
Did you know that flour regulations have changed since Brexit? If you are importing non-wholemeal flour into the UK, you must ensure that calcium, iron, niacin and thiamine have been added to meet the required composition.
Need help with importing products from France?
France is the UK's fifth-largest trade partner, with the total bilateral trade of goods and services valued at £94.5 billion in 2022.
If you need help with export clearance or import clearance on either side of the border, Customs Support is here for you. Contact us for more information.