How Customs Support is working towards sustainable development
Image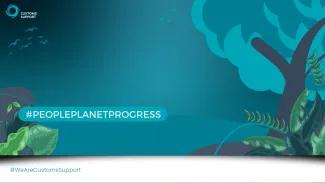 Sustainable development is something all businesses need to consider. International Customs, Compliance and Sustainability Director Nicolas Collart discusses our progress this Earth Day.
Tell us about Customs Support's recent sustainability review
As with many service-based businesses, sustainability has only become a focus for us recently. Some of our individual branches have had their own initiatives, but there has never been any centralised policies or data collection. Therefore, we've never had a comprehensive sustainability report for the group. 
Last year, we began to collect data for ESG purposes, and this shed some light on our sustainability footprint. Even though we have limited impact as a digital service provider, we recognised that improvements can be made and committed to making our business more environmentally friendly.  
To that effect, we made an effort to collect data as best we could, which has enabled us to issue our first group sustainability report for 2022. This report is not as comprehensive as we would like, but it provides a baseline and marks our first step in our sustainability journey. 
Aside from reporting, is there anything that is being done now?
Whilst we are ambitious in everything that we do, we must be realistic about what we can do right now. Until we have conclusive data for 2023, we are unable to create a more in-depth plan. 
However, we are able to immediately reduce our paper and vehicle usage: 
Targets for sustainable paper use
From a group and industry perspective, we have a digital-first approach. The thing is, different offices, or countries, can have different attitudes to paper. Whilst the general aim of the group is to print as little as possible, our 2022 review showed we have significant differences on how this is done in practice. 
Therefore, one of our main targets is to bring all of our offices round to the same level of paper usage, and to ensure we only use recycled or sustainably sourced paper. Each country will also need to determine which is the more sustainable source: the fully certified forest halfway around the world, or the domestic supplier without certification. The carbon footprint comes into it as well. 
This sounds like a very small thing, but it makes a huge difference over time.  
Vehicle usage
In some countries, we provide the option to lease an electric vehicle through the business. Again, this varies between countries, but we are working to make the investment and roll this out across the group. 
Our gas safety team in The Netherlands is currently making the move to an all-electric fleet so that they can reduce their emissions. They are one of the only parts of the business where travel is both heavy and compulsory, so this will have a big effect on our footprint. 
What does sustainable development look for Customs Support going forwards?
One of our values here is accountability. We decided last year to take ownership of our non-existent sustainability reporting, and can already see the benefits with the baseline report we created. It is our job to make sure that we continue to develop this process so that we can create tangible targets. 
Therefore, the next thing is for us to bring that reporting up to a quality standard and ensure that data is submitted on a regular basis. We want to do the right thing and talk about our targets, but this can only be done once we have that reporting in place so that the data is accurate. 
To ensure we are getting our people to engage with these initiatives, we are in the process of electing sustainability ambassadors for each country. It will be their role to both collect data and raise awareness with local employees. 
Alongside driving changes in our environmental policies, our ambassadors will also oversee other areas of the group's Environmental, Social, and Governance goals. These have been created in line with the UN Sustainability Goals (UNSG) which are appropriate to Customs Support. 
We are also creating targets for sustainability that need to be met as part of our integration process. There are processes for moving our acquisitions over to the Customs Support way of working, integrating them into our systems and welcoming them to the group, but this currently doesn't include sustainability. This is the best time for us to collaborate with new colleagues on this, so we will do so. 
Do you have a question about sustainability at Customs Support?
Contact Nicolasfor more information.