Digitalisation in French Customs
Image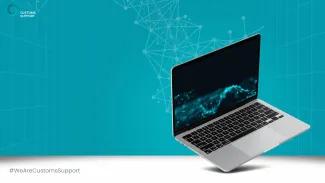 Technology is changing industries around the world, making them faster, easier, and more efficient. Find out how digitalisation in French customs is a game changer in this article.
The benefits of going paperless  
Reducing the amount of paper used in offices has been a concern for many businesses across the world due to climate change, despite it being a renewable resource.  
However, reducing paper manufacturing isn't the only global benefit to going paperless. 
And, saving space on file storage isn't the only reason your business should go paperless, either. 
Digital and online systems provide so much more traceability, efficiency, and adaptability compared to paper-based systems. You no longer need to print everything off, clutter your desk whilst you use documents, or hope that information is still legible after searching for a piece of paper in storage. 
Where does the customs industry benefit from digitalisation? 
As well as increased efficiency, there are compliance benefits and reduced risks from digitalization – both in your business and with French customs. 
Internally 
By removing paper and digitalising your processes, you unlock your business' potential for even greater efficiency: 
You can share data between your in-house systems and with your suppliers using EDI connectivity, eliminating the need for manual intervention and repetitive data entry – and all the risks of error and noncompliance associated with it. 
You can create digital customs dashboards that display all of your data in one place, allowing you to have valuable insights without compiling reports the old fashion way. 
You can automate customs tasks to ensure that essential steps are completed on time and without the risks that rushed processes carry. 
The country-wide benefits of digitalisation in French Customs 
The digital benefits for French customs go further than simply improving connectivity between government departments, although this is a key development in freeing up resources. 
Digitalised processes between ports, companies, and authorities mean that document checks, audits, and other risk-management activities can be completed quicker and more efficiently – allowing compliant traders to operate with less disruption and officials to focus on safeguarding borders. 
This doesn't only apply to trade, either. Initiatives such as the once-only technical system, which has been implemented EU-wide, mean that information on businesses and individuals can be obtained "once only" - instead of multiple times by applying to different offices, departments, and countries. 
As other frameworks like EU-centralised clearances are developed, authorities will continue to benefit more from digitalisation in French customs. 
Is your company growing with the digitalisation of French customs? 
Embracing new technology can be a big step, but Customs Support is here for you.  
Located in 13 countries across the EU and UK, we work with businesses just like yours to establish digital customs connections within your company and with your suppliers. 
Providing end-to-end customs clearance between the EU and UK, customs consultancy, and local expertise, Customs Support helps your business be efficient, dynamic, and compliant. 
If you'd like to embrace the digitalisation of French customs and unlock your supply chain's potential, contact us for more information.